Our authors have one thing in common. They all suddenly acquire a magical smile on their faces when they open the box from Amazon containing the sample author copy of their book.
That moment came a few weeks ago when Byron Walker received his Amazon author sample in the mail for his new book, Small Business Turnaround Plan: Your Complete Guide to Getting Back to Profitability While Saving Your Sanity.
Here's a quick interview I gave of the author, Byron Walker, on launch day.
When I first talked with Byron about his book in October of 2019, he had already outlined part of his future book. I mentioned I was about to start work on my own book, Lions Always Win, and joked a bit with him that I would probably have mine selling on Amazon before he even got his book content written. He wanted to give it a go on his own and we agreed to keep in touch.
A couple of months after Lions Always Win launched in February, I got a phone call from Byron. He had written some initial content to review but realized he just wasn't investing enough time into writing. He engaged with Produce My Book out of pure necessity to get the content written.
We started work in April of 2020. Today is March 22, 2021, and we are officially launching the book today. It just goes to show that not all book projects can, or should, be aimed for completion within our typical 90 day period.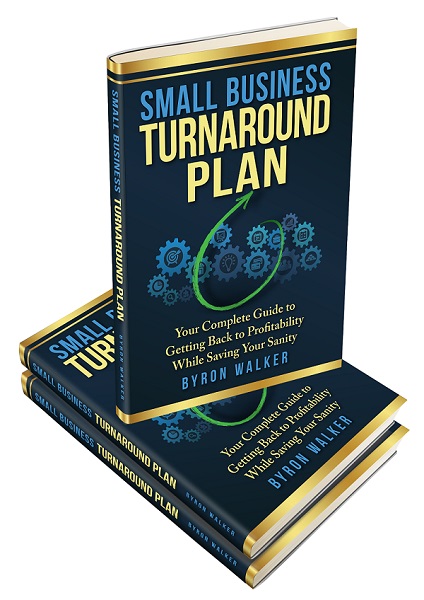 The initial content for the book took a bit longer to generate than most of our projects. We had our first content generating session on April 8 and our last session on May 8. The final book printed at just over 300 pages.
The business turnaround process is very involved. It's technical, financial, emotionally draining and corrective steps must be implemented in a timely fashion, before the business owner runs out of money. Correct words and descriptions need to be used for the author's protection as well as for the potential outcome for the reader. So, a great deal of wordsmithing and exchanging of wording and phrasing went into this project. It truly brought the term "collaborative writing" to a new level.
Many pieces and parts need to fit together into sequence for a downturn to be stopped and for the turnaround itself to start. We had to be very careful we were getting all the information someone would need to go through the small business turnaround planning process on their own.
Congratulations to the Author and Our Team
Congratulations to Byron for seeing the project through to completion where some authors would either give up entirely, or at least, settle for less than correct verbiage just to get the book done. I would also like to commend my team for their patience and dedication to being thorough where others in the business probably (certainly!) would have considered shortcuts to save on time. Instead, they kept their focus on the end result, which is a sequential series of steps to stopping a downturn and rebuilding the business back to profitability.
The result was a #1 Amazon Best Seller in three categories in Hot New Releases.
#1 Amazon Best Seller in Small Business Category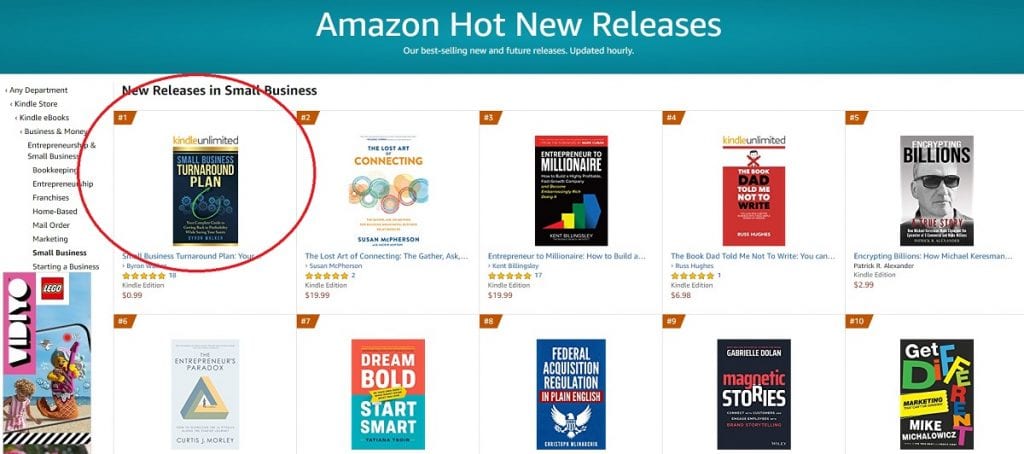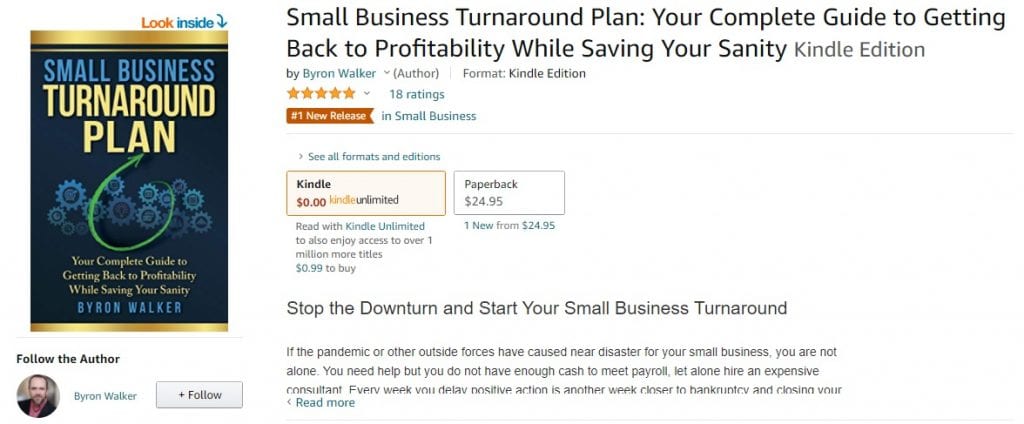 By the end of launch day, Small Business Turnaround Plan had a #1 Amazon Best Seller listing in the Hot New Releases categories of Small Business, Financial Accounting (seen in the image below) and Strategic Planning and #1 Best Seller overall in the Financial Accounting category.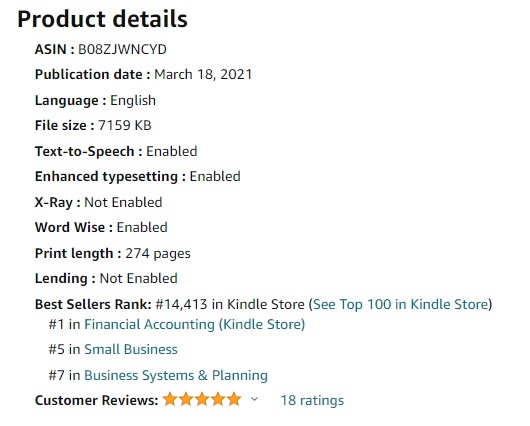 5 Star Reviews
One of the components of the book launch that helped a lot were the 20 reviews the book has received so far. Here are just a few: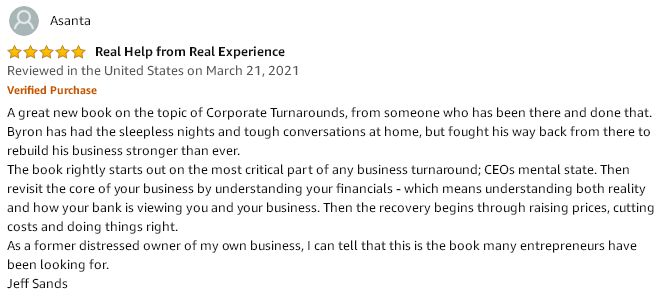 Read all of the reviews on Amazon.
Bonus Content for the Book
Small Business Turnaround Plan suggests readers visit TheTurnaroundPlan.com for bonus material. There you will find several items available (without any opt-in requirement) to help you implement the topics covered in the book.
Take Action Now!
If you have not yet purchased your copy of Small Business Turnaround Plan: Your Complete Guide to Getting Back to Profitability While Saving Your Sanity, why not do it now? There's no time to waste. If your business IN a downturn right now, you must take action now and stop the downturn from snowballing and start your turnaround before you run out of money.
If your business is growing and you are NOT in a downturn, use the techniques in this book to cover all your bases. We can't guarantee a downturn will *never* happen if you apply these steps before a downturn occurs, but you will greatly reduce the chances.