"Management style hasn't really changed much since the Industrial Revolution," says author, Jack Zoellner. The primary objective with this book was to show supervisors to the CEO level that fast change can happen within your area of responsibility. You don't need permission. You don't need endless programs and training to follow. All you need is a five-step sequence to turn your area around and others will take notice. Then, the transformation company-wide can begin.
The Magical Manager was launched in January, 2019.

Author's Challenge
Jack Zoellner came to us with a solution and a problem. His solution was (and is) a new way to manage people that no one (he claims) is teaching in schools today. The problem was that he has tried several times throughout the years to write a non-fiction book to outline his process, but the words never seemed to land on the page correctly.
You can read the specifics of the book on Amazon. What we would like to feature here is more of a behind-the-scenes look at the book from the book producer's view.
Behind the Scenes of The Magical Manager
When we began to obtain content from Jack, we realized quickly he was one man who had experienced a few lifetimes worth of management experience. In fact, he told us he has held 30 management positions for various companies over the years.
Hopping from company to company was not how Jack gained his management experience. He received rapid promotions wherever he worked. And, he applied his 5-step M.A.G.I.C. Method in every job and for every company for which he was employed.
One thing we liked about the content of the method itself is that his steps show you how to put his M.A.G.I.C. Method to work in whatever management position you are currently in. If you are a line supervisor, you can use it. If you are CEO, you can transform your company from the top down in a very short period of time.
Favorite Lines from the Book
Serving as the Guide for the obtain content sessions was a very rewarding experience when working with Jack. He is always in a positive mood and he was generally excited to be getting this content out to the world in a book form. Several favorite one-liners come to mind from our initial sessions including:
"People don't quit jobs. They quit bosses."
"People will start coming to you asking you what you are doing to get those results."
"Openness is contagious."
The real-life example of the software support tech who was gaming the system to display higher productivity numbers was priceless!
Case Study Results
The Magical Manager's initial content was developed in four two-hour sessions over a period of just ten days. Jack started out providing content from within his office room, but we suggested that he go for a walk in a park near his house for our last two sessions. A change of scenery for Jack was perfect timing as we got into the more complex chapter content. There was no rush to get this book to Amazon. So, we took some additional time in editing and cover design to get everything just right and launched in January of 2019.
We always love the day when a new author presents to us a signed copy of their new book!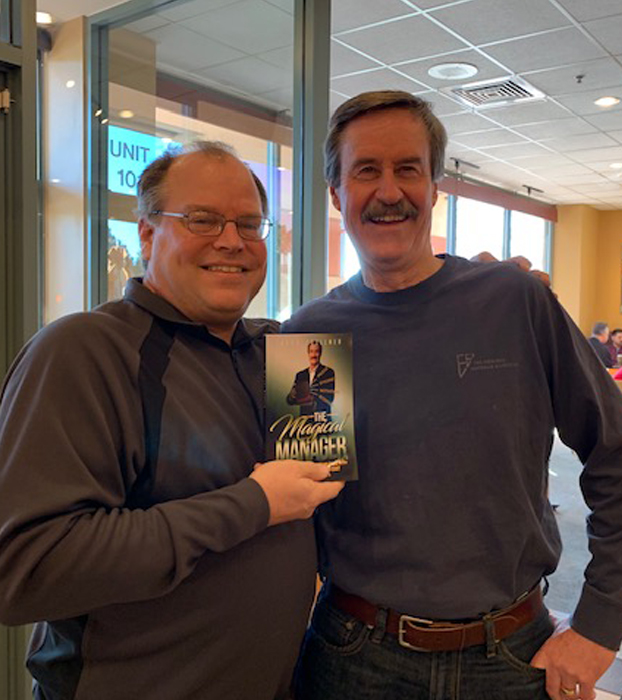 Jack Zoellner giving autographed book to Marty Dickinson of ProduceMyBook.com
Next Steps for Jack Zoellner
One of the best moments in the book development process is when the new author provides us with a signed copy of the printed book. We launched Jack's professional speaker website and he is on his way to getting his message out to the world that there is a whole new way to manage people in 2019. You can be the Magical Manager you've always wanted to be. Just follow Jack's 5-step M.A.G.I.C. Method.
Order The Magical Manager Book Today!